Matrix News, Insights, Videos, Latest
Matrix Leaders Guest on Phoenix Business RadioX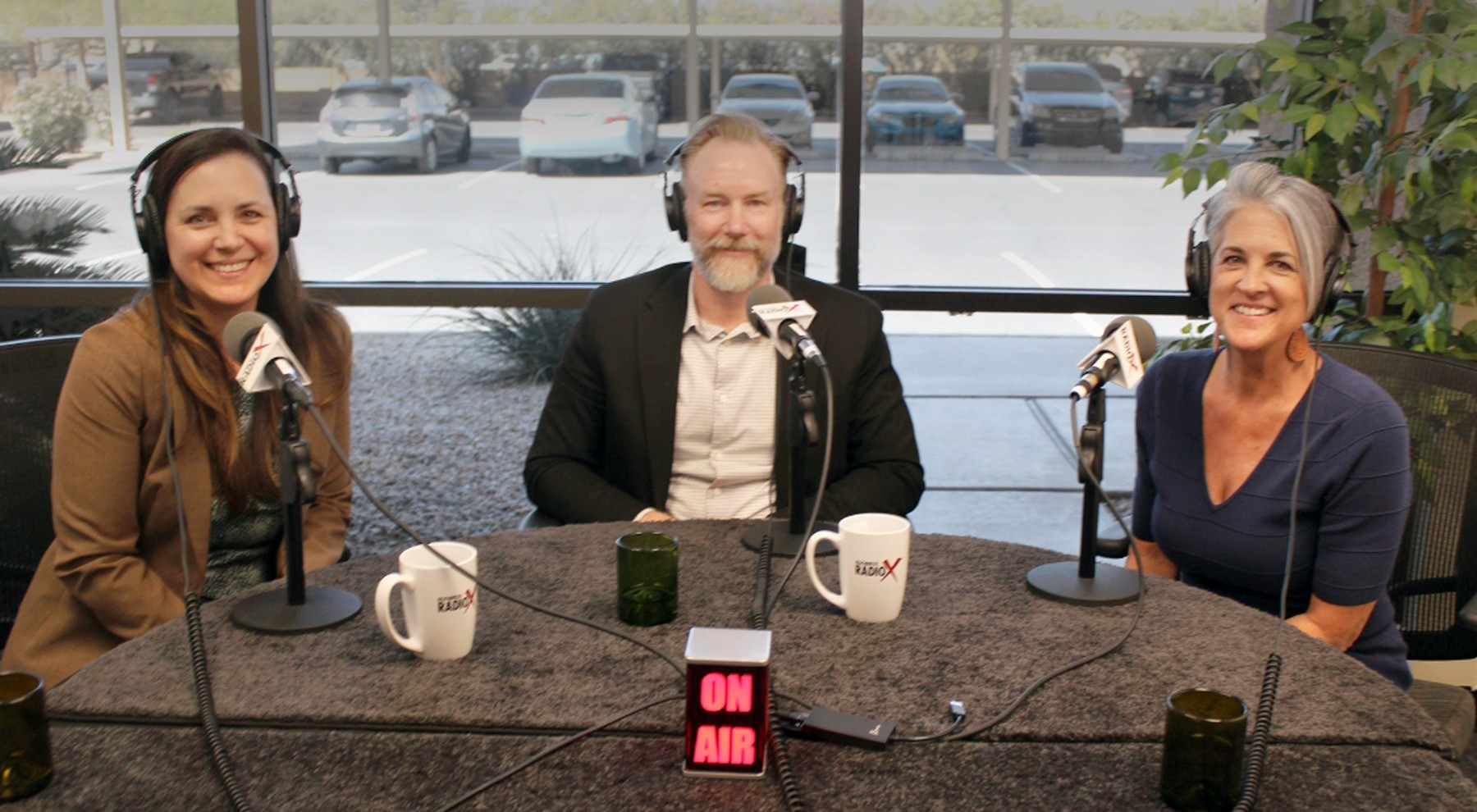 April 2023
Phoenix, AZ — Nathan Miller, Operations Manager, and Elizabeth Mora, Senior Project Hydrogeologist and Modeler, Matrix New World Engineering (Matrix), were interviewed on Phoenix Business RadioX.
Hydrologists Nathan Miller and Elizabeth Mora sit with Karen Nowicki to speak about their work
The discussion, led by Host Karen Nowicki highlighted and brought awareness to Matrix's Arizona work with groundwater.
Miller spoke about the importance of groundwater why it is so crucial, "We have surface water as our supply in Arizona… we are in a situation where the allocation of Colorado River water is being cut back.  We need to either reduce our demand for water or find new sources. In the interim, we are ensuring there is enough water to meet our needs. The focus now is how to best figure out solutions."
Miller and Mora detail their process of monitoring groundwater and the tools they use to assist them. Mora explained the use of groundwater flow models. She described the tools as instruments that have " water coming into the aquifer and water that leaves the aquifer". These groundwater flow models help inform decisions needed for the future.
It is important we all are more mindful of the earth and Mora advocates for water conservation. The public can start with simple habits in the home. She recommended becoming aware of one's at-home water usage during daily activities.
Host Karen Nowicki gave a call to action, something she rarely does in an  interview and asked listeners to "keep the conversation going, " through social channels and to reach out with questions.
According to Jayne Warne, PE, President, "Matrix is proud of the work we are doing in Phoenix, Arizona.  Nathan and Elizabeth are experts in the groundwater process and in finding answers to benefit the environment and, ultimately, the planet."
To listen to the show, please click here: http://bit.ly/3nSNUgZ
About Nathan Miller
Nathan Miller is a graduate of the University of Arizona and serves as Arizona Operations Manager for Matrix New World Engineering. He is also a hydrologist with recognized expertise in numerical groundwater flow modeling who leads Matrix's modeling team.
Miller combines his technical proficiency with an understanding of the State's key regulatory policies affecting the use of groundwater to serve municipalities, water utilities, developers, and regulatory agencies.
Miller serves as technical lead and primary interface for several high-profile groundwater resources investigations throughout Arizona.
About Elizabeth Mora
Elizabeth Mora is a Senior Project Hydrogeologist and Modeler with 21 years of professional experience. Throughout her career, Mora has developed expertise in groundwater flow modeling for water resources projects including managed aquifer recharge and Assured Water Supply projects.
Mora works closely with Miller in the use of numerical groundwater flow models to evaluate pumping and recharge impacts for clients throughout Arizona.
As a fourth generation native to the Phoenix area, Mora has a genuine interest in the future of Arizona's water supply and is committed to safeguarding its long-term viability. At Matrix, Mora assists with management of the Matrix Modeling Team. She has conducted dozens of water supply and managed aquifer recharge projects across Arizona.
About Matrix New World Engineering
Matrix New World Engineering is a company of engineering and science experts who focus on some of the nation's most pressing long-term challenges, including climate change, resiliency, ecological restoration, contamination studies, water supply, disaster response, and urban revitalization. Matrix believes solving environmental challenges through careful planning and engineering is an indispensable measure of success.
Matrix is a growing woman-owned business with offices in New York, New Jersey, Connecticut, Arizona, and Louisiana coupled with project experience throughout the United States and the Caribbean.  For more information on the firm, please contact: Jayne Warne, President 800.747.MATRIX, [email protected]