Matrix News, Podcast, Latest
Olga Abinader Guests on Public Affairs Podcast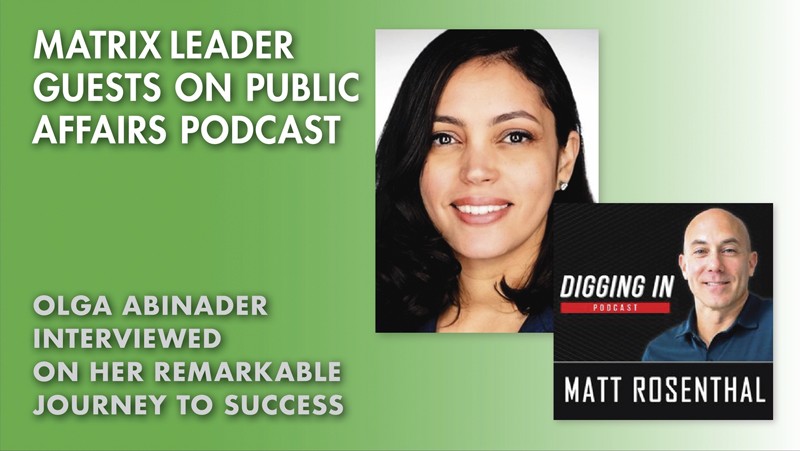 March 2023
New York, NY – Olga Abinader, Director of Environmental Review and Land Use Planning (Matrix), was a guest on the "Digging In" podcast with Host Matt Rosenthal. Abinader took a deep dive into her journey to the United States from the Dominican Republic to her current leadership role at Matrix. Abinader highlighted the path that brought her to where she is today.
Abinader attributes part of her success to her belief in the 'American Dream' and the inspirational women in her family. She believes representation is an essential part of anyone's journey. As she stated, "When you see people that can remind you of who you can be, it inspires you to become your best possible self."
A key role in her drive is the mindset, "If I fail, I'm going to get up again and try the next day."
Abinader credits the company where she works, Matrix, a woman-owned environmental engineering firm, as another strong driver in her success.  Matrix is known for their advocacy in showcasing STEM fields as career choices for young women as well as their strong belief in representation for all.
According to Jayne Warne, PE, President, "Olga truly personifies our core values.  She is a leader in diversity and inclusion and aligns perfectly with our goals.  Olga is an integral member of our leadership team."
Abinader describes her work as "finding solutions so that the world… and the environment that we're living in is preserved and protected for the next generation."
Olga  defines the way she leads as 'servant leadership,' leading through example and letting colleagues know she is available to assist. If someone has questions or needs help in an area, she is happy to offer support.
"It comes back to that responsibility that I felt as someone coming to the United States and needing to succeed."
To listen to the show, please click here: http://bit.ly/40Mlt2r
To speak with Matrix, please contact Amy Delman, Amy Delman Public Relations, LLC, 201.563.4614 or [email protected]
About Olga Abinader
Olga Abinader, ENV SP, is an environmental and sustainability professional with over 15 years of urban planning, environmental disclosure policy, public speaking, and leadership experience in the public and private sectors. Abinader is the Director of Environmental Review and Land Use Planning and ESG Lead at Matrix New World Engineering, a renowned environmental consulting firm solving national and global challenges in climate change, infrastructure, transportation, and energy.
Born in the Dominican Republic, Abinader emigrated with her family to Salem, Massachusetts in the early 1990s. Her family maintained strong connections to their Caribbean heritage by speaking only Spanish at home. As a fully bilingual English and Spanish speaker, Abinader translated for family and friends who had limited English skills. In 1999, Abinader assumed a leadership role in the "La Union Latina" organization, established in 1987 at Salem High School to celebrate Latin-American culture and traditions.  In 2007, the preeminent Latinx media group Hispanic Business recognized Abinader as a Winner's Circle Scholar at the Hispanic Business Inc. Woman of the Year Awards event.
Over the course of her career, Abinader has been honored with numerous speaking engagements, awards, and recognitions, including: Guest Speaker on the ¿Que Pasa, NJ? PBS Talk Show (2022), LatinX Podcast with Randy Gomez (2022), and 'WRNJ Morning Drive Show' with Host Bert Baron; the Manager of the Year Award (Joe Salvo Award) at the New York City Department of City Planning, New York, NY (2019); Scholarship Honor and Guest Speaker at the 5th Annual Hispanic Business Woman of the Year Awards, Las Vegas, Nevada (2007); Panelist Speaker at the New Jersey Hispanic Chamber of Commerce, The Art of Being a Modern Latina Event, Lyndhurst, New Jersey (2022); and Podcast Guest and Committee Member for the "Today Is The Day Changemakers" organization, a global digital platform for leaders making a significant positive societal impact (2022).
Abinader was recently recognized by Crain's New York Business as a '2022 Notable Hispanic Leader' Honoree.
In 2023, Abinader was appointed to the Brown University Advisory Council for the Institute at Brown for Environment and Society (IBES). Founded in 2014, IBES is a thriving interdisciplinary Institute for climate, sustainability, and environmental education and research, achieving national and international stature as one of the top programs of its kind.
Abinader also gives her time to W.I.D.E. (Women for Inclusion, Diversity + Equity). This volunteer group promotes the inclusion and equality of all people through education and community outreach in rural communities of upstate New York.
As the former Director of the Environmental Assessment and Review Division with the NYC Department of City Planning, Abinader led hundreds of active City Environmental Quality Review (CEQR) applications to support transit-oriented growth, housing production and affordability, economic development, and resilient and sustainable communities across NYC.
Abinader received her Master of Urban Planning from Harvard University, Graduate School of Design, and holds a Bachelor of Arts in Urban Studies from Brown University.
About Matrix New World Engineering
Matrix New World Engineering is a company of engineering and science experts who focus on some of the nation's most pressing long-term challenges, including climate change, resiliency, ecological restoration, contamination studies, water supply, disaster response, and urban revitalization. Matrix believes solving environmental challenges through careful planning and engineering is becoming an indispensable measure of success.
Matrix is a growing woman-owned business with offices in New York, New Jersey, Connecticut, Arizona, and Louisiana coupled with project experience throughout the United States and the Caribbean.
For more information on the firm, please contact: Jayne Warne, President 800.747.MATRIX, [email protected]