Matrix Spotlighted by NJEDA at IPF Forum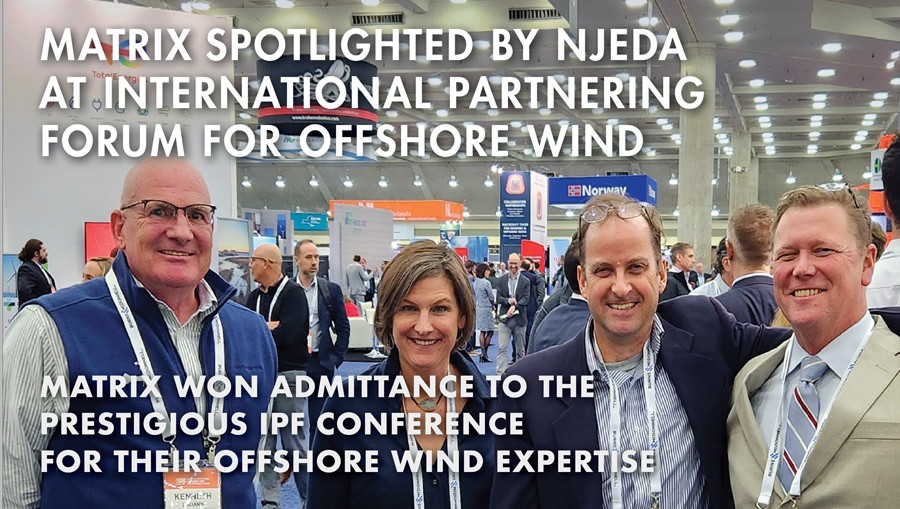 April 2023
Florham Park, NJ — Matrix New World Engineering (Matrix) was selected as one of five New Jersey companies to win complimentary entrance to this year's conference after demonstrating its profound work in the offshore industry.  The firm was chosen since it embodies New Jersey's talent and capability as an emerging hub for offshore wind in the U.S.
The International Partnering Forum (IPF) for Offshore Wind was held in Baltimore from March 28th – 30th.  As part of the New Jersey Economic Development Authority's (NJEDA's) efforts to promote New Jersey as an emerging hub for offshore wind in the U.S., it was decided to explain "Why Choose New Jersey?" and showcase existing New Jersey companies.
According to Andy Raichle, PE, Vice President, "Being selected propels Matrix to the forefront of becoming a leader in the U.S. offshore wind industry.  It's an exciting opportunity."
International Partnering Forum, hosted by the Business Network for Offshore Wind, connects global leaders and businesses in the supply chain.  Matrix was joined by over 3,000 attendees, 250 speakers, 300 exhibitors, and 24 media partners. (Shown above at the conference, from left to right: Ken Lucianin; Donna McCormack; Rob Fiorile; Andy Raichle).
About Andy Raichle, PE
Andy Raichle is a civil and marine engineer with nearly 30 years of international experience in delivering waterfront development and maritime projects, including ports, warehousing, parks, resorts, marinas, parks, shore protection, and urban redevelopment projects. Well-versed in the technical, political, and regulatory specialties unique to the process of waterfront development/ redevelopment, he has managed projects throughout the U.S., U.S. territories, and the Caribbean. Mr. Raichle's marquee project experience includes Atlantis Paradise Island, Miami's Fisher Island, the Peninsula at Bayonne Harbor, and Lower Manhattan's "Big U" Resiliency Project. For more than two decades, Mr. Raichle has focused on redevelopment and port development in the New York Harbor Complex, serving as the Engineer of Record for hundreds of waterfront projects. Most recently, Mr. Raichle has been leading teams of engineers, environmental specialists, and surveyors responding to Superstorm Sandy and Hurricane Maria by implementing recovery and resiliency projects.
About Matrix New World Engineering
Matrix New World Engineering is a company of engineering and science experts who focus on some of the nation's most pressing long-term challenges, including climate change, resiliency, ecological restoration, contamination studies, water supply, disaster response, and urban revitalization. Matrix believes solving environmental challenges through careful planning and engineering is an indispensable measure of success.
Matrix is a growing woman-owned business with offices in New York, New Jersey, Connecticut, Arizona, and Louisiana coupled with project experience throughout the United States and the Caribbean.  For more information on the firm, please contact: Jayne Warne, President 800.747.MATRIX, [email protected]