Matrix Places in NJBIZ 2022 "Best Places to Work"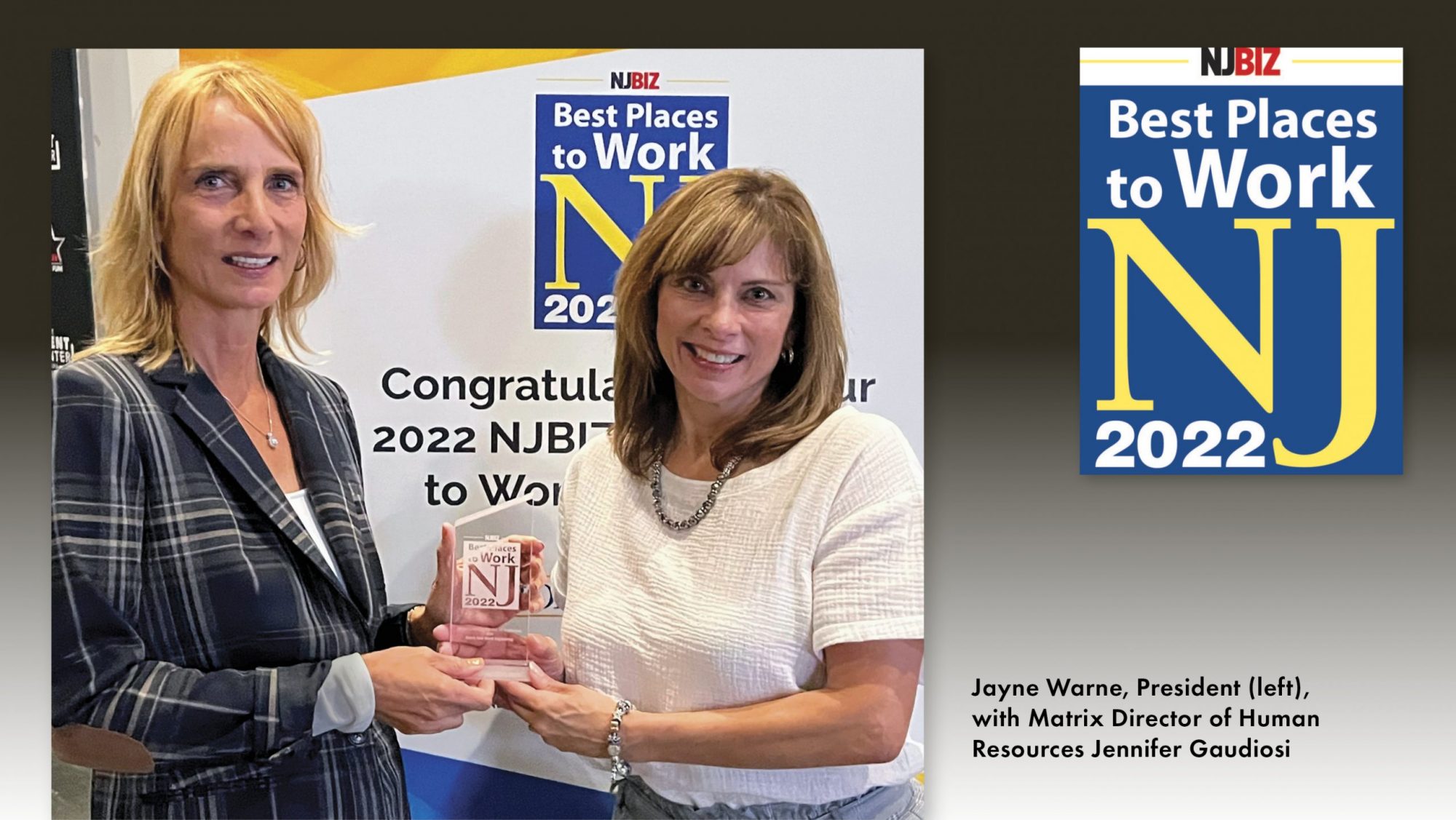 October 2022
Florham Park, NJ – Matrix New World Engineering (Matrix) was named one of New Jersey's 2022 Best Places to Work in the annual competition of the same name. This event is hosted by NJBIZ and Best Companies Group.
Matrix was ranked number 39 in the medium size business category based on the nominations of their employees and their positive work environment.
NJBIZ's 2022 "Best Places to Work" confidential survey was sent to employees of small, medium, and large companies. This survey and recognition program identifies and recognizes the best employers in the state. Based on employee responses, NJBIZ collected data to provide feedback to companies and to exemplify great work environments.
Matrix's mission has focused on solving national environmental and infrastructure challenges while also promoting an uplifting work environment for employees to grow professionally and personally. Matrix is proud to be a woman-owned company of engineers and experts who focus on initiatives for environmental restoration, while also providing employees a work-life balance for family time, social awareness, and community involvement.
According to Jayne Warne, P.E., President, "We are overjoyed to receive this prestigious award. Our highly valued employees are our best assets. I would like to congratulate all the other companies who received this recognition. It is truly a privilege and an honor."
To see the full list, please click here >
About NJBIZ
NJBIZ, New Jersey's leading business journal, produces a weekly print edition with a circulation of more than 15,000 copies, as well as providing 24/7 business news coverage through its NJBIZ.com website and multiple daily e-newsletters.The publication is also well-known throughout the state for its events honoring New Jersey's top business professionals.
About Matrix New World Engineering
Matrix New World Engineering is a company of engineering and science experts who focus on some of the nation's most pressing long-term challenges, including climate change, resiliency, ecological restoration, contamination studies, water supply, disaster response, and urban revitalization. Matrix believes solving environmental challenges through careful planning and engineering is an indispensable measure of success.
Matrix is a growing woman-owned business with offices in New York, New Jersey, Connecticut, Arizona, and Louisiana coupled with project experience throughout the United States and the Caribbean. For more information on the firm, please contact: Jayne Warne, President 800.747.MATRIX, [email protected]