Matrix Announces West Coast Promotions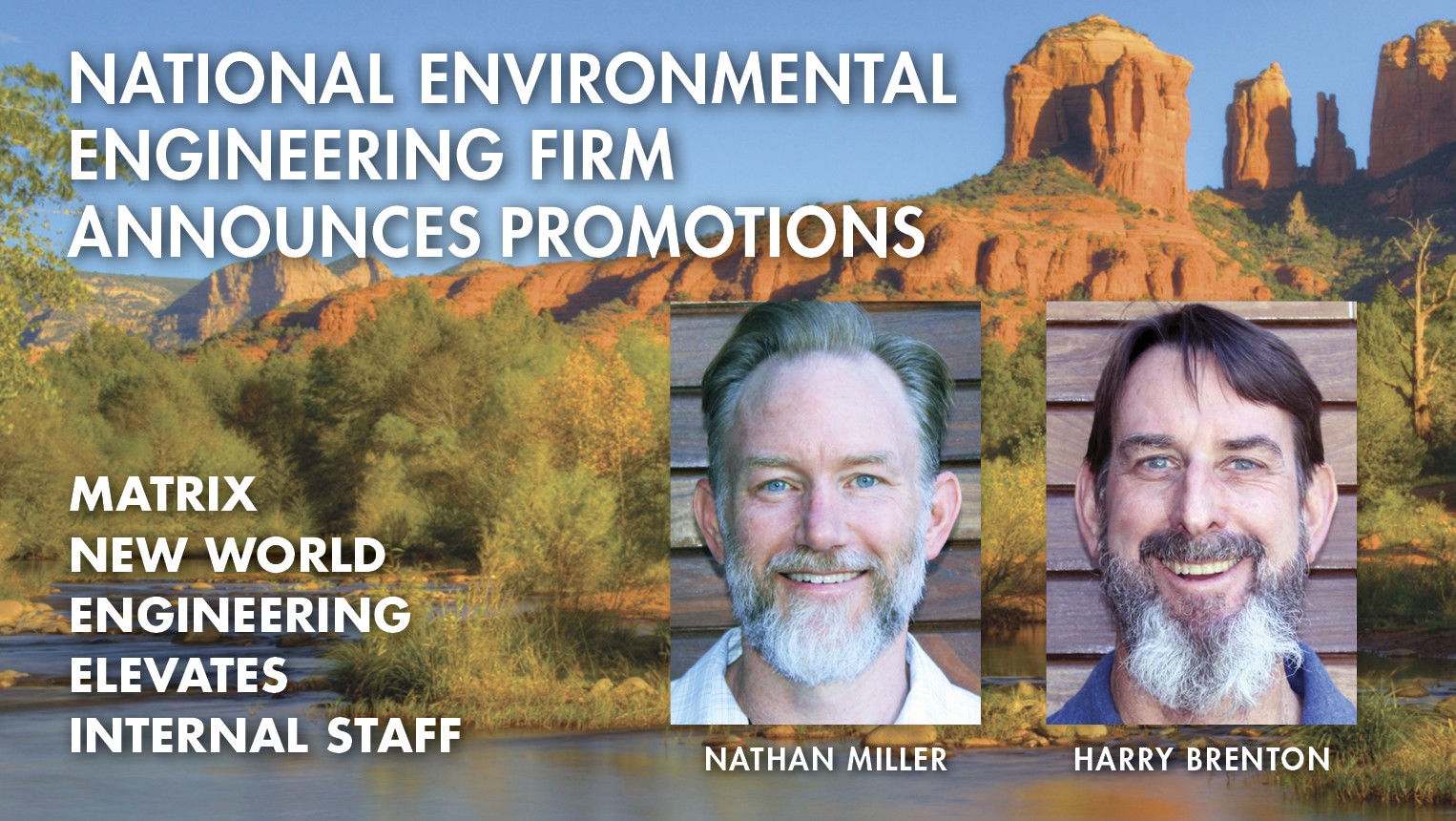 September 2023
Phoenix, AZ – In recognition of their professional excellence, leadership, and continued contributions to the growth and success of the firm, Matrix New World Engineering (Matrix) is pleased to announce promotions in their Arizona location.  Receiving promotions are:
Nathan Miller – Vice President, Groundwater Modeling Services
Prior to this position as the Vice President of Groundwater Modeling Services at Matrix, Miller served as the Arizona Operations Manager for Matrix. Nathan is a recognized hydrologist with expertise in numerical groundwater flow modeling. His knowledge enabled Matrix's modeling team to comply with the State's key regulatory policies affecting the use of groundwater to serve municipalities, water utilities, developers, and regulatory agencies.
Harry Brenton – Vice President, Hydrogeological Services
Before being named Vice President of Hydrogeological Services at Matrix, Brenton was the Principal Geologist at Matrix. With more than 23 years of consulting experience as a Geologist, Hydrogeologist, and Project Manager he was responsible for assisting private, municipality, state, federal, and mining clients. Throughout his career, Harry  has worked on a wide variety of projects throughout Arizona, Alaska, California, Nevada, New Mexico, Texas, Central America, and Mexico. His project experience includes groundwater supply investigations (pilot hole drilling, testing, well design, installation and development, aquifer testing); subsurface environmental characterization investigations, etc.
According to Jayne Warne, PE, President, "Congratulations to Nathan and Harry on this well-deserved accomplishment!  Each of you have had a positive effect on Matrix and its goals. We look forward to continued success together."
About Matrix New World Engineering
Matrix New World Engineering is a company of engineering and science experts who focus on some of the nation's most pressing long-term challenges, including climate change, resiliency, ecological restoration, contamination studies, water supply, disaster response, and urban revitalization. Matrix believes solving environmental challenges through careful planning and engineering is an indispensable measure of success.
Matrix has offices in New York, New Jersey, Connecticut, Arizona, Louisiana and California, coupled with project experience throughout the United States and the Caribbean.