Matrix Announces East Coast Promotions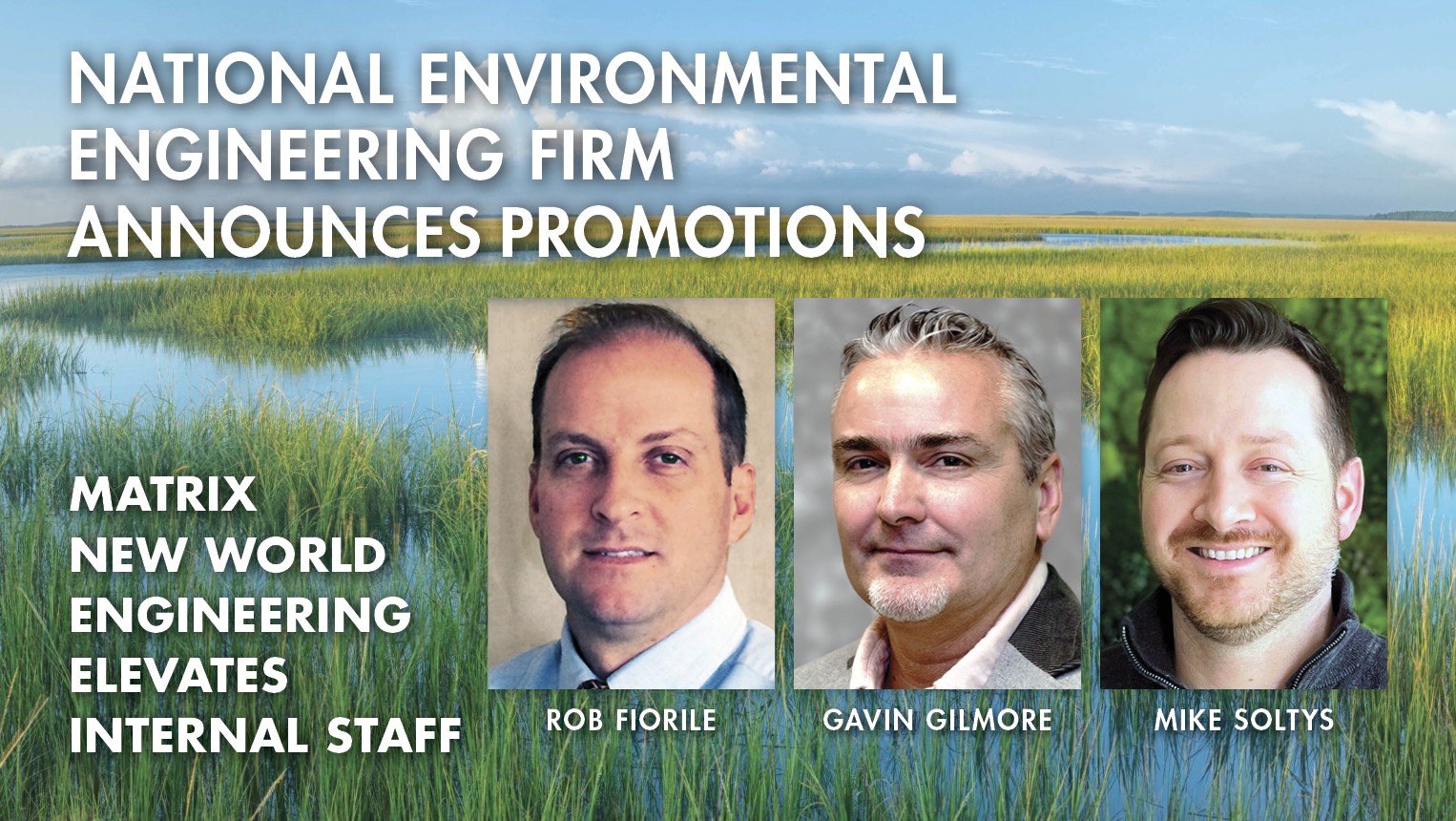 September 2023
Florham Park, NJ – In recognition of their professional excellence, leadership, and continued contributions to the growth and success of the firm, Matrix is pleased to announce promotions in their New York and New Jersey locations.  Receiving promotions are:
Rob Fiorile – Vice President, Environmental Planning & Ecological Services
Prior to his new role as the Vice President of Environmental Planning & Ecological Services, Rob spent 25 years working in the field of environmental science and regulation. He was a Senior Scientist at Matrix responsible for the completion of ecological studies/surveys, natural resource inventories, environmental reviews (NEPA, CEQR, SEQR< EO 215) and State and Federal environmental permitting.
Gavin Gilmore – Vice President, Hazardous Materials Services
Before being announced Vice President of Hazardous Materials Services, Gavin served as Project Manager/Asbestos Lead. He was responsible for hazardous material investigations at the project areas, including an asbestos-containing material (ACM) survey, etc. Mr. Gilmore has more than 30 years of diverse experience as an asbestos, lead based paint and microbial investigator, project designer, project monitor, technician, and remediation supervisor. He brings a necessary and valuable degree of field experience to enhance project execution.
Mike Soltys – Vice President, Applied Engineering Services
Prior to being named Vice President of Applied Engineering Services at Matrix, Mike was the Director of Applied Engineering. He was responsible for leading 25+ engineers, technicians, and landscape architects in the Applied Engineering department. Soltys has established himself as a major player in the civil, structural, geotechnical, marine, flood resilience, and landscape architecture arenas, managing many multi-discipline projects for private and public sector clients alike at some of the most marquee sites in the world.
According to Jayne Warne, PE, President, "Congratulations on this well-deserved accomplishment!  Each and every one of you have had a positive effect on Matrix and its goals. We look forward to continued success together."
About Matrix New World Engineering
Matrix New World Engineering is a company of engineering and science experts who focus on some of the nation's most pressing long-term challenges, including climate change, resiliency, ecological restoration, contamination studies, water supply, disaster response, and urban revitalization. Matrix believes solving environmental challenges through careful planning and engineering is an indispensable measure of success.
Matrix has offices in New York, New Jersey, Connecticut, Arizona, Louisiana and California, coupled with project experience throughout the United States and the Caribbean.