Matrix News, Podcast, Latest
Laurie LaPat-Polasko Guests on EPR Radio Show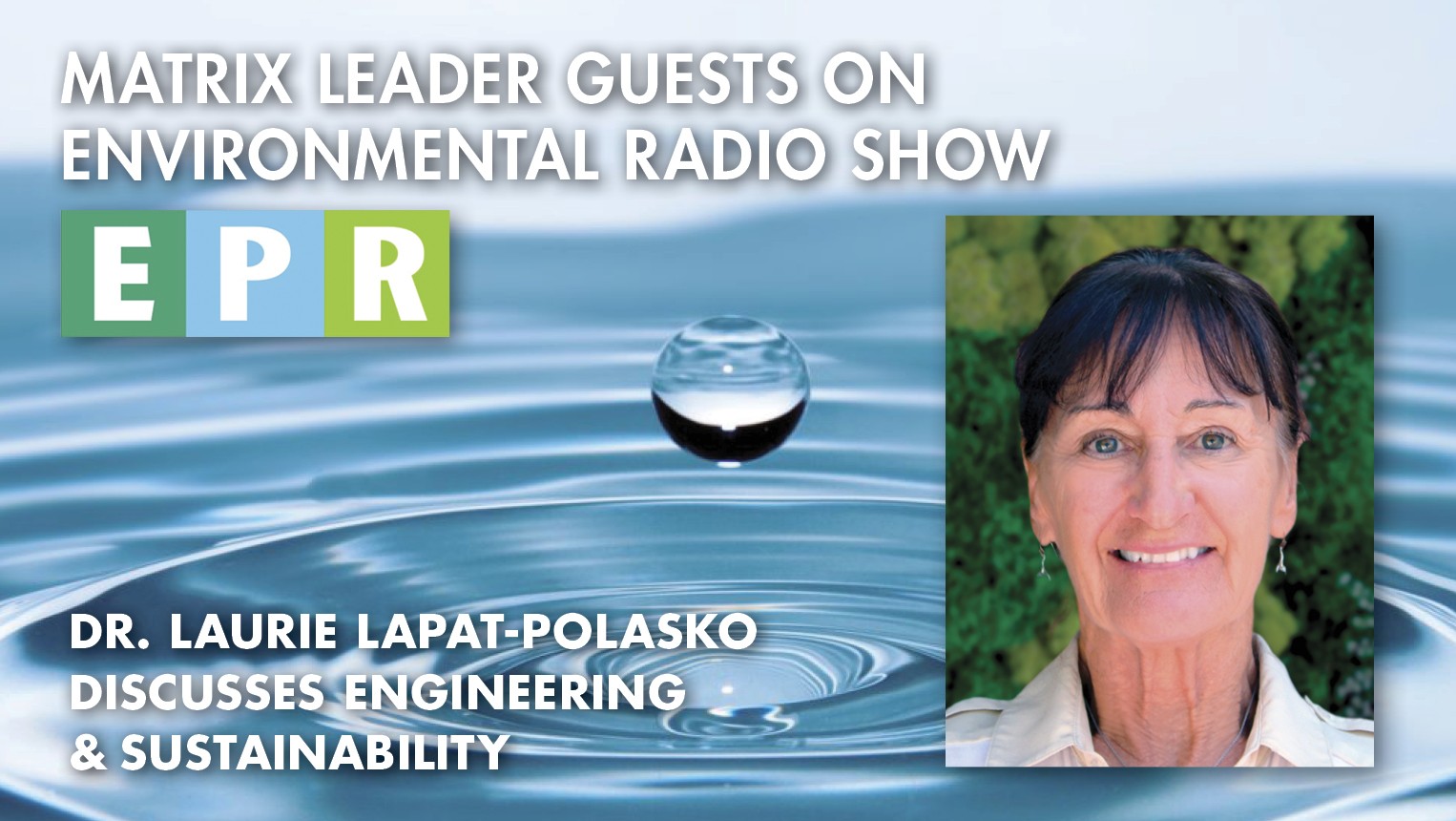 November 2023
Phoenix, AZ — Dr. Laurie LaPat-Polasko, Vice President/National Director of Remediation, Matrix New World Engineering (Matrix), spoke to Environmental Professionals Radio on environmental sustainability, microbial remediation, her work in Antarctica and the importance of engineering.
Dr. LaPat-Polasko specializes in environmental engineering and microbiology, developing sustainable ways to biodegrade contaminants. She is passionate about  marine life and went on many research expeditions.  A particular highlight was getting to work alongside famed oceanographer, Jacques Cousteau.
Dr. LaPat-Polasko seeks ways to efficiently clean-up sites with sustainable and green remediation by identifying if microorganisms in the environment can biodegrade contaminants. She is a firm believer in  the importance of engineering and its role in  preserving our planet for today and for the future.
Her philosophy in business and in life is simply, "Just go for it. Be fearless. Do not be afraid." As a mentor she wants nothing more than to watch her mentees expand their horizons. She describes herself as a big proponent of finding one's passion.
According to Jayne Warne, PE, President, "Dr. LaPat-Polasko is a voice for both the ongoing study of our environment and her support for STEM.  She is a strong advocator for the importance of science and expanding our exploration."
To listen to the interview, please click here.
About Dr. Laurie LaPat-Polasko
Known worldwide for her work developing innovative solutions to address water and soil contamination issues, Dr. LaPat-Polasko has a Ph.D. in Microbiology from the University of Maryland, a M.S. and Engineers Degree in Civil and Environmental Engineering from Stanford University, and a B.S. in Biology from Chatham University.
She has studied microbial pathogens around the globe, combining her knowledge of biology, environmental engineering, and microbiology to develop and design innovative "bioremediation" approaches to clean up contaminated sites, creating a green, cost-effective method to degrade diverse contaminants, such as chlorinated solvents, explosives, fuel compounds, and emerging contaminants.
Dr. LaPat-Polasko used qPCR to determine the source of a Naegleria fowleri impact in a drinking water source in the Phoenix, AZ area. Her many years of experience as a technical consultant, project manager, and chief science officer for efforts involving groundwater and soil remediation and wastewater treatment combined with her knowledge of microbiology and civil engineering, result in cost-effective remediation solutions for surface water, groundwater, soil, and sediments impacted by organic and inorganic compounds.
Dr. LaPat-Polasko has been the recipient of several prominent honors. In 2018, she received the GOLD International Stevie Award for Women in Business, Woman of the Year – Technology, and was selected as Outstanding Business Woman of the Year – 2018 by the Phoenix Business Journal for her community leadership, professional accomplishments, and personal achievements and in 2020 she received the Prism Award from the Society of Women, Engineers for Outstanding Leadership in STEM
About Matrix New World Engineering
Matrix New World Engineering is a company of engineering and science experts who focus on some of the nation's most pressing long-term challenges, including climate change, resiliency, ecological restoration, contamination studies, water supply, disaster response, and urban revitalization. Matrix believes solving environmental challenges through careful planning and engineering is an indispensable measure of success.
Matrix has offices in New York, New Jersey, Connecticut, Arizona, Louisiana and California, coupled with project experience throughout the United States and the Caribbean.