Matrix News, Insights, Latest
Matrix Participated in Syracuse Downtown Revitalization Initiative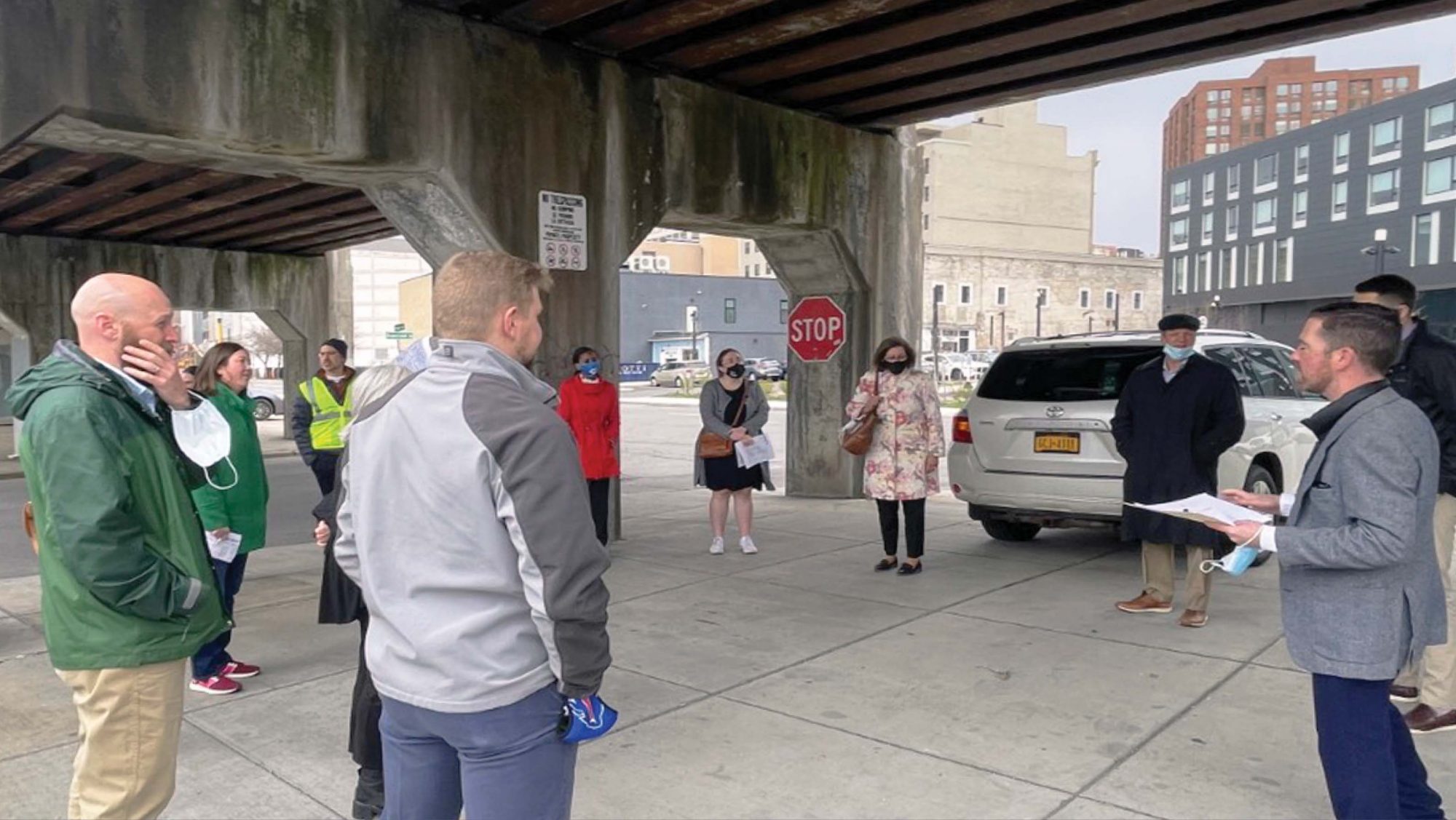 March 2023
Florham Park, NJ —Matrix New World Engineering (Matrix) recently participated in Syracuse's Downtown Revitalization Initiative Project where they worked on the Southwest Gateway District.
Matrix was responsible for providing project support for the implementation of New York State's Downtown Revitalization Initiative (DRI) in Syracuse, New York. The Southwest Gateway is a growing downtown community seamlessly connected with Armory Square—extending vibrant density to the south and west—by improving real estate utilization, adding affordable housing, and enhancing public infrastructure and green spaces. Part of its goal is to appeal to the younger residents of the town and its walking amenities. This project helps with the great revival of New York State in post-pandemic living conditions for both its patrons and its economy.
Matrix Aids in the Improvement of Southwest Gateway District
Key to this project were Senior Environmental Planners Matthew Sloane and Sarah Sklar who worked alongside Olga Abinader who leads the Matrix efforts in environmental planning in the New York City metro as well as the company's ESG practice. Together, Matrix worked alongside small business owners, community members, the Syracuse Local Planning Committee (LPC), and other stakeholders in the Syracuse Southwest Gateway corridor in support of achieving the DRI program's goals of transforming the neighborhood into a vibrant center that offers a high quality of life and serves as both anchor and catalyst for local and regional growth.
Matrix joined a team of consultants led by Epstein to assist the City of Syracuse and the LPC with identifying implementation-ready projects and preparing a robust Strategic Investment Plan (SIP) that built on the City's prior planning initiatives. Specifically, Matrix's scope of work included data collection and analysis, field reconnaissance to document existing conditions within the project geography, preparation of project profiles for applicant proposals seeking DRI funding (including data related to their feasibility, value, and appropriateness, among other factors) and synthesizing of information for consideration by the LPC and other public stakeholders in the Syracuse Southwest Gateway Corridor.
Additionally, Matrix supported and attended several public outreach events and coordination meetings with local stakeholders, DRI funding applicants, and the public. Matrix helped guide local stakeholders through the DRI process, solicited their input, visions and goals, and synthesized findings into summary reports. Matrix also prepared survey evaluation criteria for the LPC to determine which projects to consider and include in the SIP for potential funding by the NYSDOS. As the DRI process requires participating projects to follow the NYStretch Energy Code, Matrix also worked with various project sponsors to clarify green efficiency standards and requirements.
According to Jayne Warne, P.E., President, "It is very rewarding to hear the project was well recognized by the city and its staff. Revitalization brings vitality and hope to an area, and we are proud to have played a role."
About Olga Abinader
Olga Abinader, ENV SP, is an environmental and sustainability professional with over 15 years of urban planning, environmental disclosure policy, public speaking, and leadership experience in the public and private sectors. Abinader is the Director of Environmental Review and Land Use Planning and ESG Lead at Matrix New World Engineering, a renowned environmental consulting firm solving national and global challenges in climate change, infrastructure, transportation, and energy.
About Matrix New World Engineering
Matrix New World Engineering is a company of engineering and science experts who focus on some of the nation's most pressing long-term challenges, including climate change, resiliency, ecological restoration, contamination studies, water supply, disaster response, and urban revitalization. Matrix believes solving environmental challenges through careful planning and engineering is an indispensable measure of success.
Matrix is a growing woman-owned business with offices in New York, New Jersey, Connecticut, Arizona, and Louisiana coupled with project experience throughout the United States and the Caribbean. For more information on the firm, please contact: Jayne Warne, President 800.747.MATRIX, [email protected]