Matrix News, Insights, Latest
Andy Raichle Sworn In as a Commissioner of the NJ State Tidelands Resource Council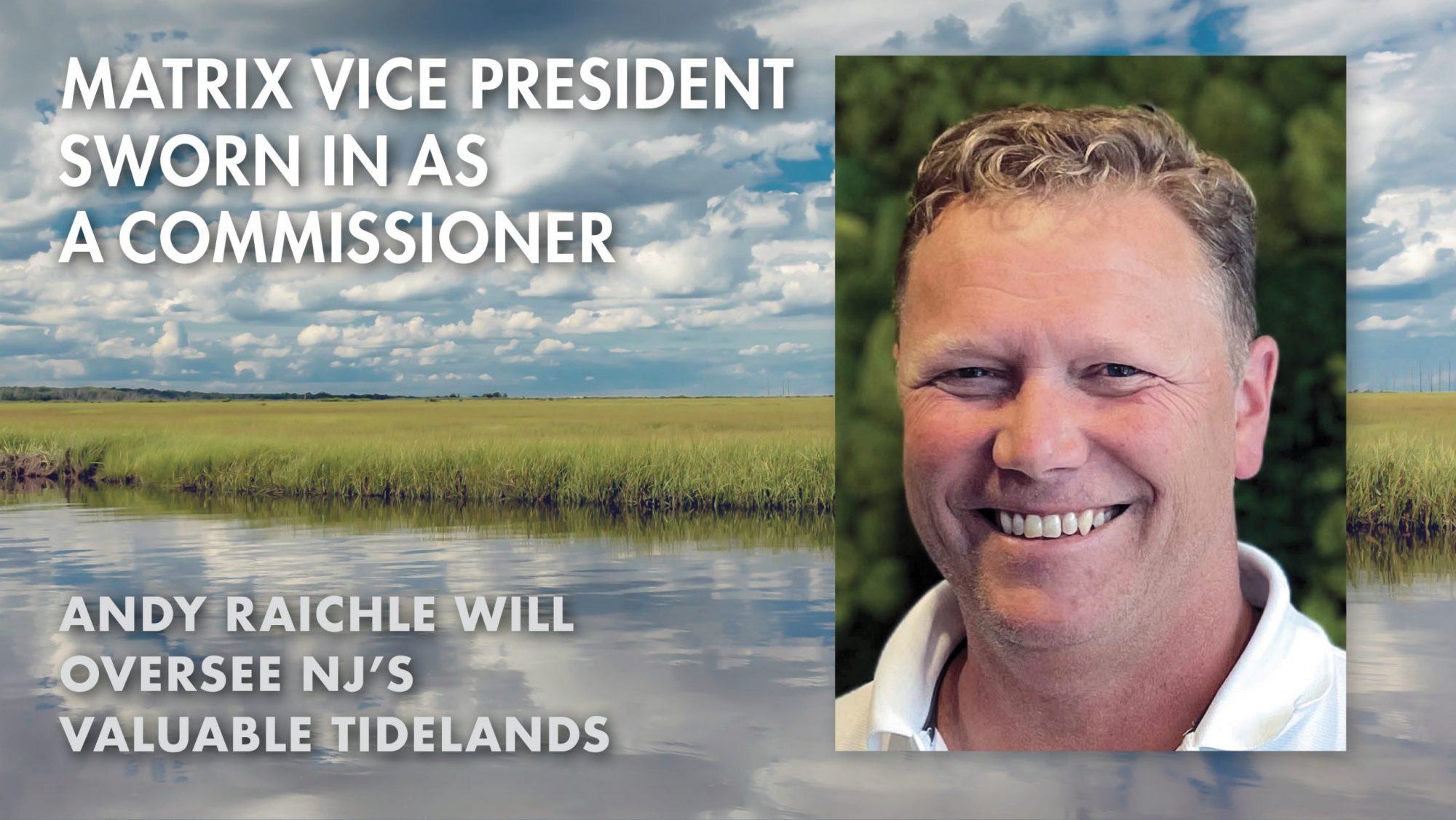 February 2023
Florham Park, NJ — Andy Raichle, P.E., Vice President, Matrix New World Engineering (Matrix), was recently sworn in as a Commissioner of the New Jersey State Tidelands Resource Council.
Raichle's three decades of international experience in delivering waterfront development and maritime projects awarded him a nomination from Governor Murphy and confirmed by the State Legislature. Raichle takes on the responsibility of providing stewardship for the State's valuable tidelands resources, which consist of lands currently or formerly flowed by the tide of a natural waterbody.
These state-owned tidelands are held in trust for the people of the State – a right intimately connected to the Public Trust Doctrine that has persisted for centuries for the benefit of the public. Therefore, fees generated from the Council's license and sale of tidelands benefit and support public schools.
Raichle is honored to serve on the Council on behalf of the people of New Jersey.
According to Jayne Warne, PE, President, "We are proud Governor Murphy nominated Andy Raichle and the State Legislature confirmed him as a Commissioner. Andy's extensive background and expertise in waterfront development and maritime projects makes him an unparalleled choice for this position. The vital stewardship of our waters and waterways is critical for generations to come."
About Andy Raichle, PE
Andy Raichle is a civil and marine engineer with nearly 30 years of international experience in delivering waterfront development and maritime projects, including ports, warehousing, parks, resorts, marinas, parks, shore protection, and urban redevelopment projects. Well-versed in the technical, political, and regulatory specialties unique to the process of waterfront development/ redevelopment, he has managed projects throughout the U.S., U.S. territories, and the Caribbean. Mr. Raichle's marquee project experience includes Atlantis Paradise Island, Miami's Fisher Island, the Peninsula at Bayonne Harbor, and Lower Manhattan's "Big U " Resiliency Project. For more than two decades, Mr. Raichle has focused on redevelopment and port development in the New York Harbor Complex, serving as the Engineer of Record for hundreds of waterfront projects. Most recently, Mr. Raichle has been leading teams of engineers, environmental specialists, and surveyors responding to Superstorm Sandy and Hurricane Maria by implementing recovery and resiliency projects.
About Matrix New World Engineering
Matrix New World Engineering is a company of engineering and science experts who focus on some of the nation's most pressing long-term challenges, including climate change, resiliency, ecological restoration, contamination studies, water supply, disaster response, and urban revitalization. Matrix believes solving environmental challenges through careful planning and engineering is an indispensable measure of success.
Matrix is a growing woman-owned business with offices in New York, New Jersey, Connecticut, Arizona, and Louisiana coupled with project experience throughout the United States and the Caribbean. For more information on the firm, please contact: Jayne Warne, President 800.747.MATRIX, [email protected]