Andy Raichle Featured in ROI-NJ Article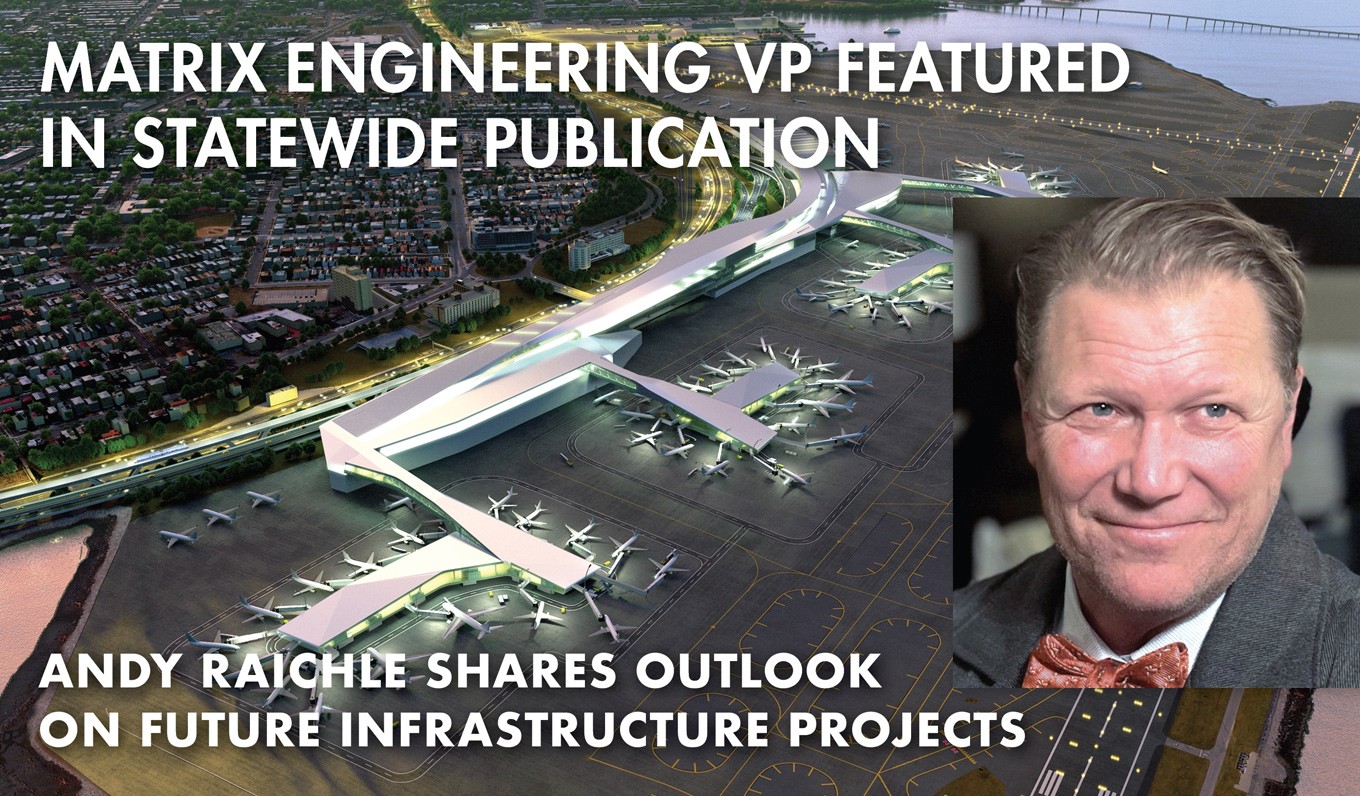 July 2022
Florham Park, NJ — Andy Raichle, P.E., Vice President, Matrix New World Engineering (Matrix), was featured in a recent 'ROI NJ' article, 'Public shift: Architecture and engineering firms expect business to stay good — but maybe not in traditional fashion," discussed engineering firms are potentially shifting to public infrastructures projects with thoughts of a recession coming.
Matrix has been sharpening its resources in the event of an economic plunge. If a recession were to occur, Raichle is confident that the firm will stand strong with all its future efforts in the coming months and years.
While Matrix's projects have been evenly split between private jobs and public infrastructure in the last few years, Raichle believes there may be a repositioning as interest rates rise and public infrastructure funding kicks in.
Raichle continued, "So, while an even split might be ideal, we may see a bias toward public infrastructure work in the near future.  Our folks are trained to live in both worlds, which allows us to ride these changes in the economy."
According to Jayne Warne, PE, President, "The 1.2 trillion federal infrastructure bill will go to funding public infrastructure projects such as roads and bridges, as well as cleanups of contaminants such as groundwater soil-invasive compounds, e.g., PFOs chemicals, which brings a major opportunities to Matrix for environmental remediation. It is an exciting time for the company."
About ROI-NJ: 
ROI-NJ delivers real-time news and features that provide New Jersey's diverse business community with a Return On Information, while creating dynamic engagements among influencers.
About Andy Raichle, PE
Andy Raichle is a civil and marine engineer with nearly 30 years of international experience in delivering waterfront development and maritime projects, including ports, warehousing, parks, resorts, marinas, parks, shore protection, and urban redevelopment projects. Well-versed in the technical, political, and regulatory specialties unique to the process of waterfront development/ redevelopment, he has managed projects throughout the U.S., U.S. territories, and the Caribbean. Mr. Raichle's marquee project experience includes Atlantis Paradise Island, Miami's Fisher Island, the Peninsula at Bayonne Harbor, and Lower Manhattan's "Big U" Resiliency Project. For more than two decades, Mr. Raichle has focused on redevelopment and port development in the New York Harbor Complex, serving as the Engineer of Record for hundreds of waterfront projects. Most recently, Mr. Raichle has been leading teams of engineers, environmental specialists, and surveyors responding to Superstorm Sandy and Hurricane Maria by implementing recovery and resiliency projects.
About Matrix New World Engineering
Matrix New World Engineering is a company of engineering and science experts who focus on some of the nation's most pressing long-term challenges, including climate change, resiliency, ecological restoration, contamination studies, water supply, disaster response, and urban revitalization. Matrix believes solving environmental challenges through careful planning and engineering is an indispensable measure of success.
Matrix is a growing woman-owned business with offices in New York, New Jersey, Connecticut, Arizona, and Louisiana coupled with project experience throughout the United States and the Caribbean.  For more information on the firm, please contact: Jayne Warne, President 800.747.MATRIX, [email protected]